Cuddle Bug Cottage
The Cuddle Bug Cottage is a cute little vacation cabin for rent in Hocking Hills, Ohio, situated in a beautiful, serene valley setting with meadows and wooded hillside views all around.  It is situated within easy driving distance of all major Hocking Hills State Park attractions. The perfect cabin for a Romantic Getaway or a Hocking Hills Family Vacation.
Two-bedrooms, sleeps up to 8
The Cuddle Bug is a frame construction with aluminum barn siding and an attractive green metal roof, a full-length covered front porch, and a spacious covered side porch with a private Hot Tub. This two-bedroom cottage with beautiful wood interiors sleeps up to 8 adults, and children are welcome.  It has a queen log bed, 2 full-sized  beds bunked, and a futon.
Beautiful knotted pine
The Cuddle Bug has beautiful knotty pine solid wood T&G paneling on all the interior walls and ceilings. Once you're inside, you'd never know you weren't in a real Hocking Hills log cabin! It is luxuriously furnished with almost exclusively log furniture, custom built for us by local Amish craftsmen. The furniture is made from a variety of woods, mostly White Cedar, Red Cedar, White Pine, and Oak. NEW hot tubs were installed at each cabin in October 2022! The cuddle Bug cabin features an outdoor hot tub under a covered deck.
Covered porch with Hot Tub
The covered porch at the Cuddle Bug is the perfect place to relax and enjoy peace and quiet, taking in all of nature around you. Had a long day hiking the caves? Stressed from work? A few minutes relaxing in the brand NEW hot tub, enjoying the gentle massage of the jets and you'll forget your aching muscles and worried mind.
Special Features
In addition to all of the same features in our log cabins for rent, the Cuddle Bug also has some additional, special features. It has a 32″ HD Flatscreen TV in the Living Room (DVD and DirecTV) and a 19″ HD Flatscreen TV in the bedroom. And if you're looking for an Ohio Vacation Cabin with a Games Room, look no further, it has a number of board games and Horseshoes game in the yard!
Features include:
Hot Tub
Gas-Log Fireplace
Queen-size Log Bed
Memory Foam mattress
32″ & 19″ HD Flatscreen TV's
DirecTV w/150 channels
TV/DVD/CD
 Horseshoes Games
Amish custom built log furniture
Covered front & side porches
Outside Fire Ring & sitting area
NEW: Picnic Table
Stocked Kitchen w/cookware
Home-made Cinnamon Rolls
Coffee Maker w/Coffee
Microwave, Toaster Oven
Air Conditioning
NEW – Good cell signal for Verizon, AT&T & T-Mobile, decent for some others
Charcoal grill
Ceiling Fans
Pull-out Futon couch/bed
Towels & Linens
No Pets Allowed
So, Curl up by the fire with your cuddle bug and a good book or movie….Relax in the gentle massage of the Hot Tub jets….Drink a hot cup of coffee, tea or hot chocolate, feast on delicious home-made cinnamon rolls, and enjoy the brisk Ohio air. And, if you enjoy stargazing, the Hocking Hills is officially one of the "darkest" spots in southeast Ohio. You'll have a hard time finding a better place to stargaze, as the Cuddle Bug has a full and unobstructed view of the night sky.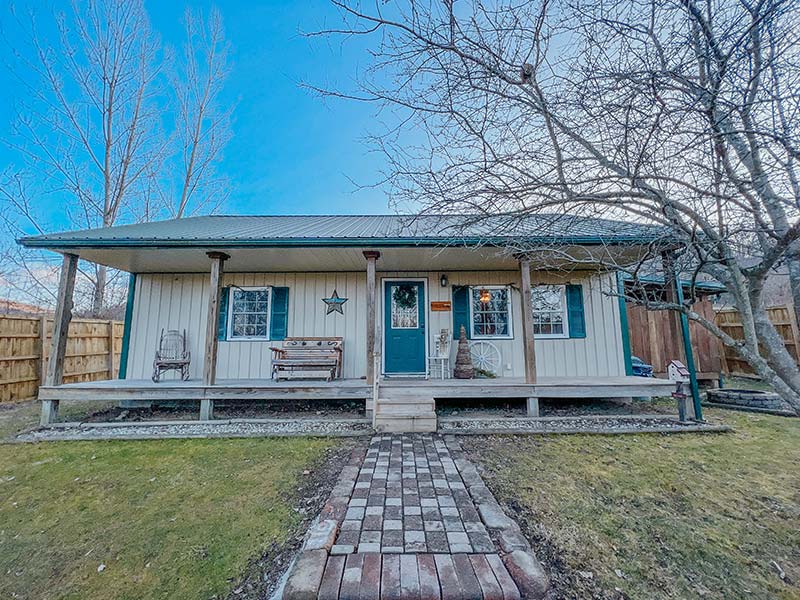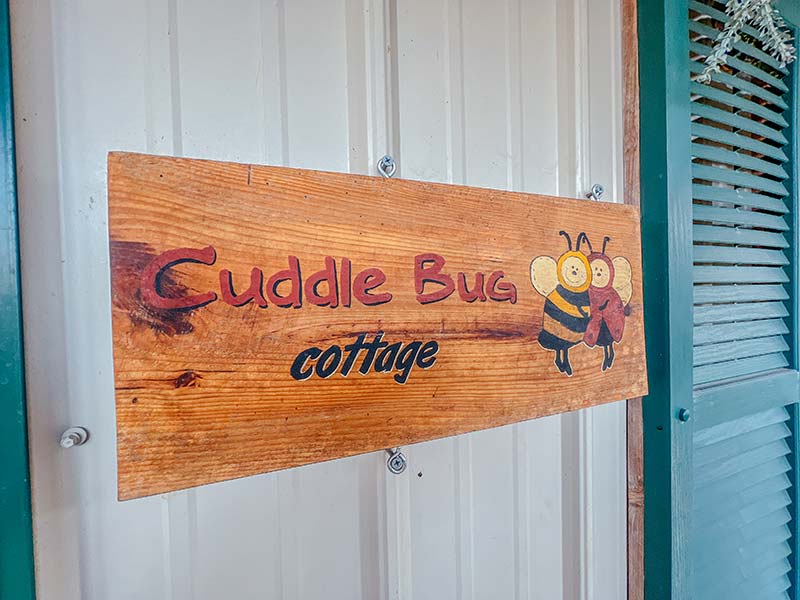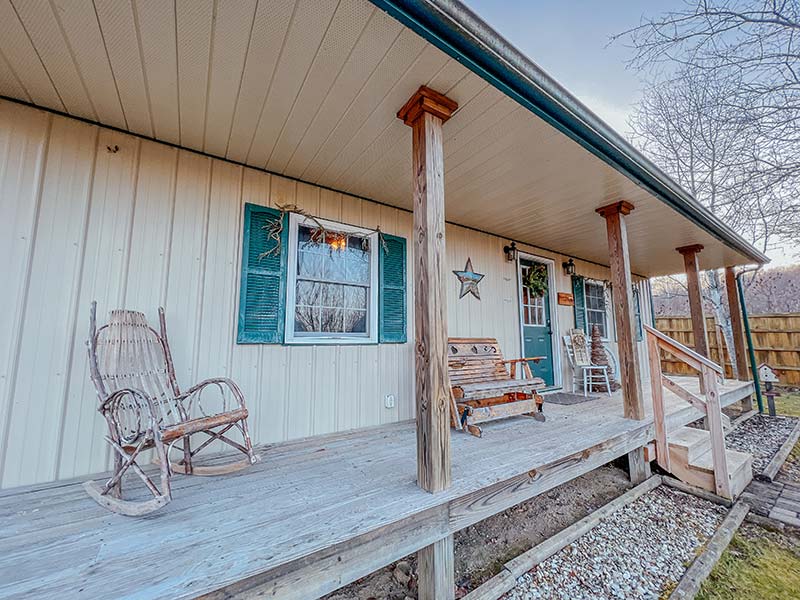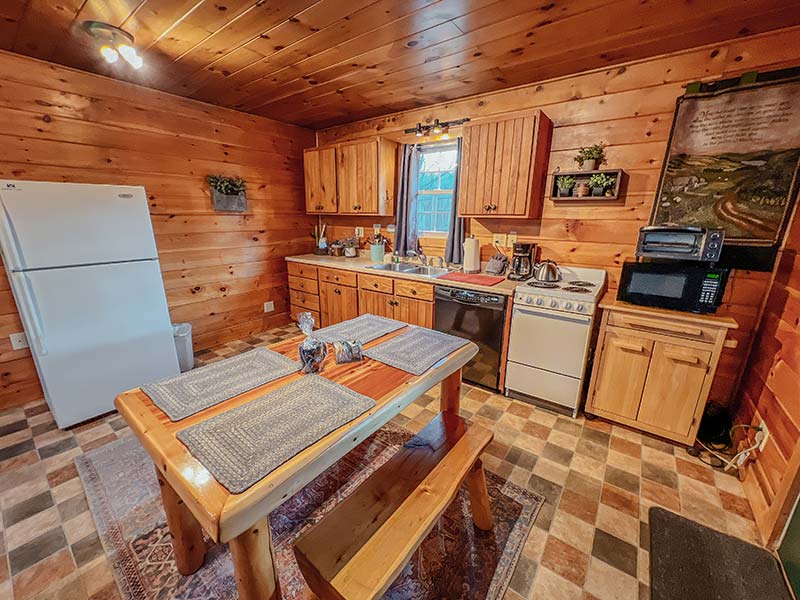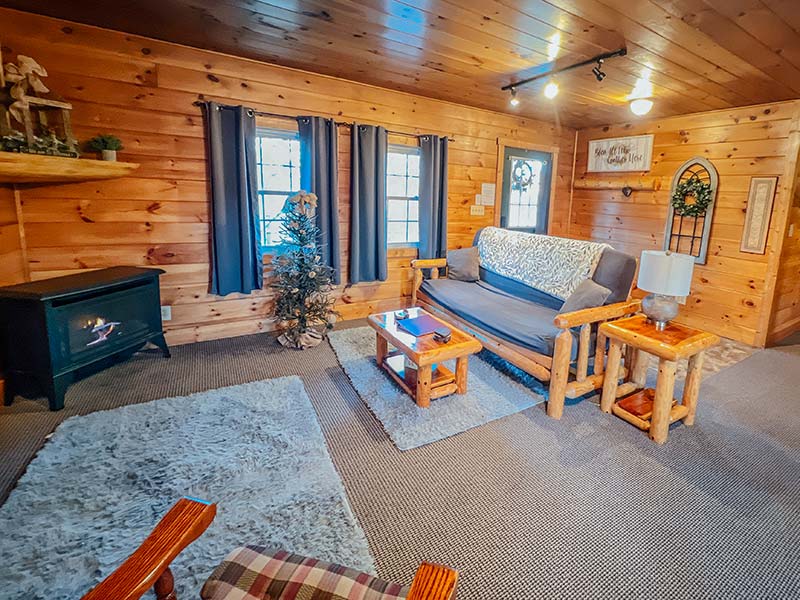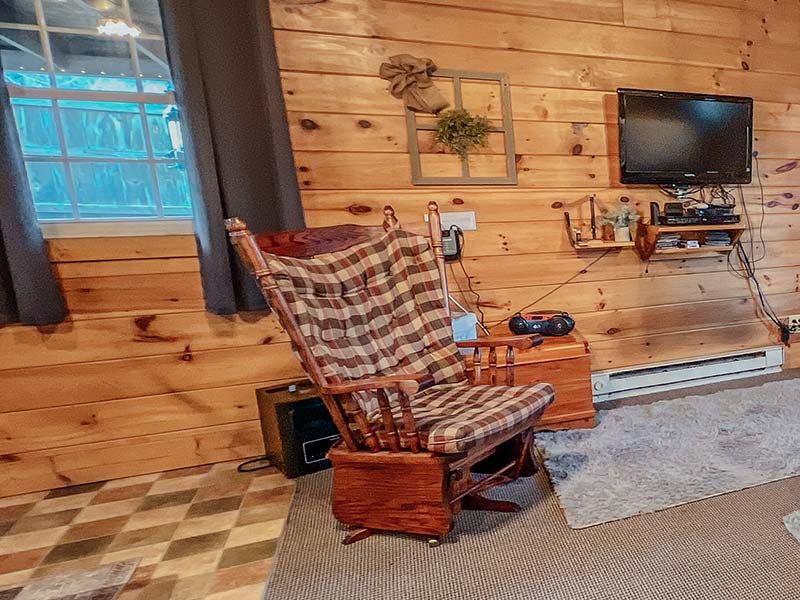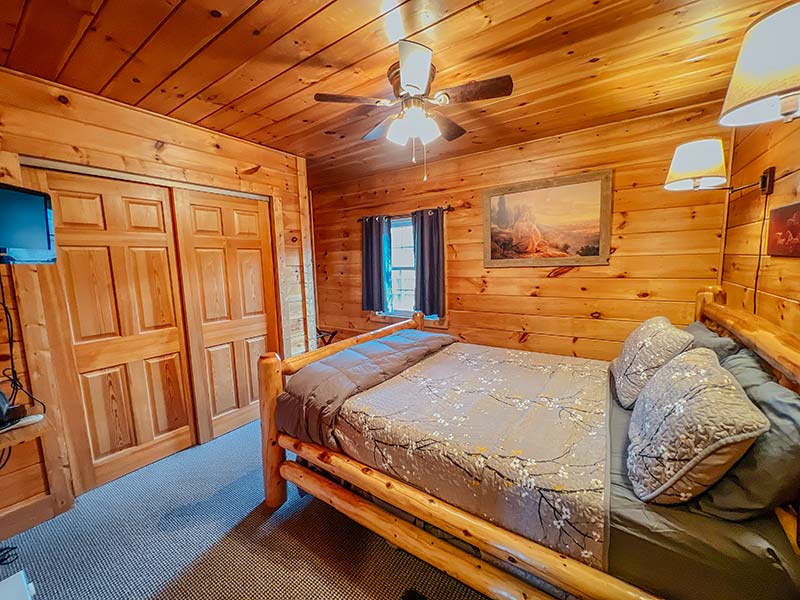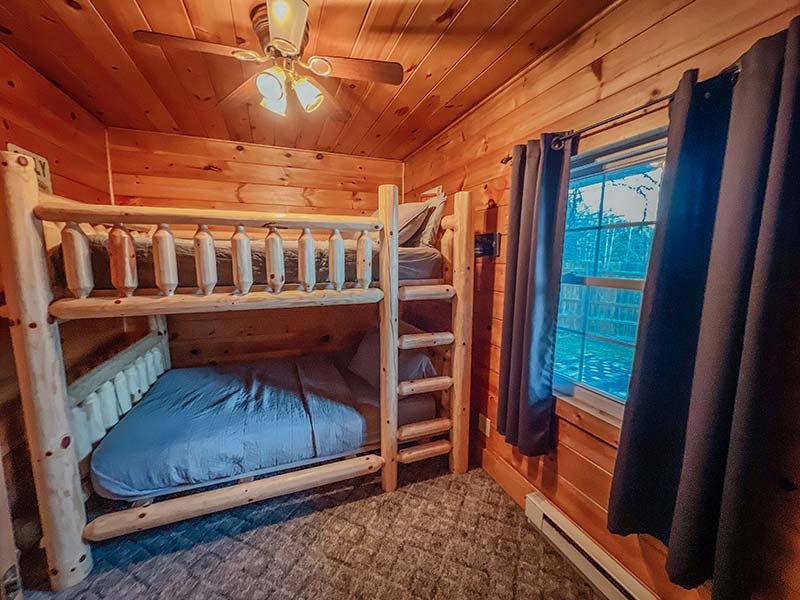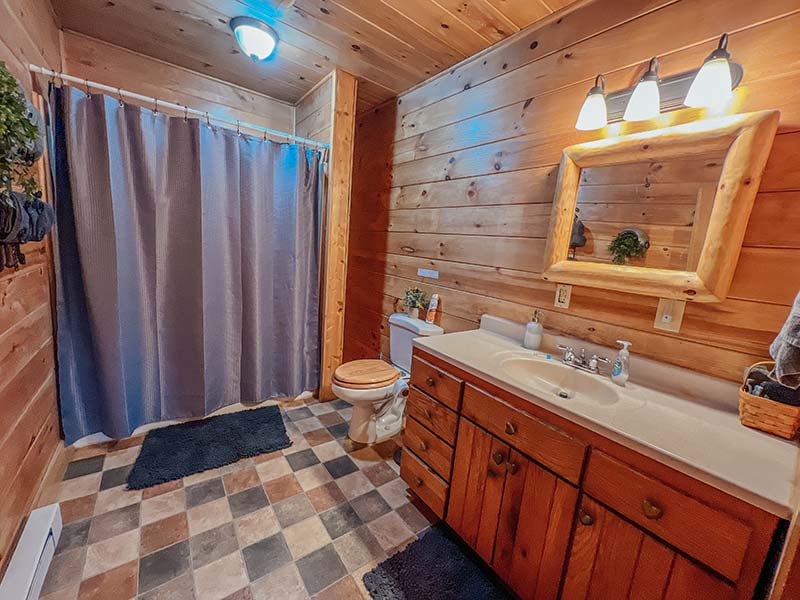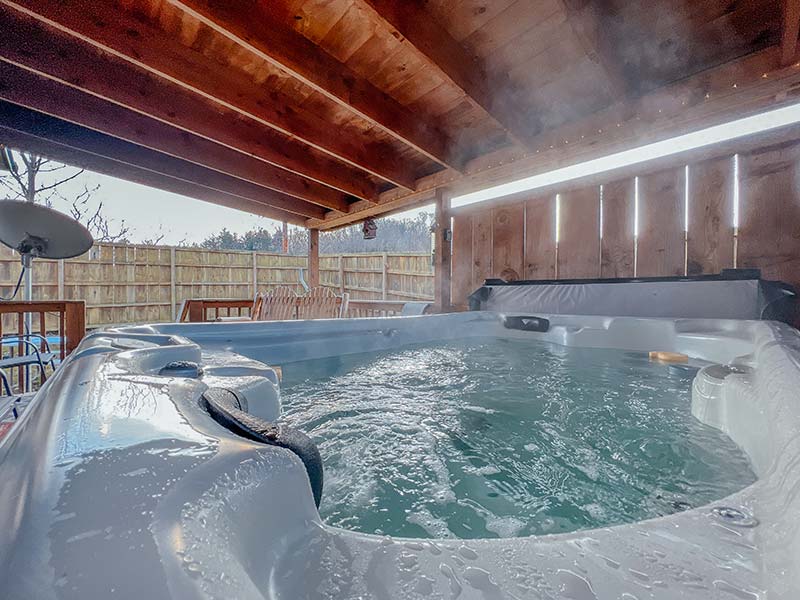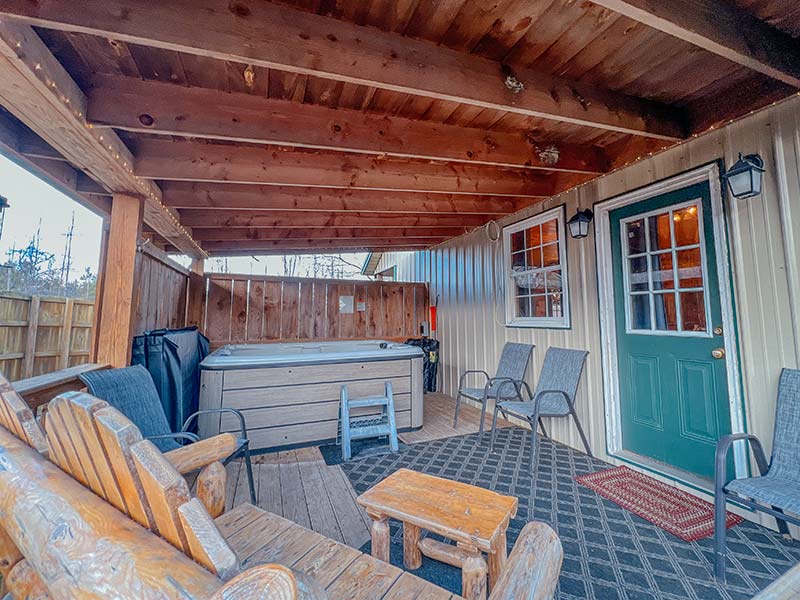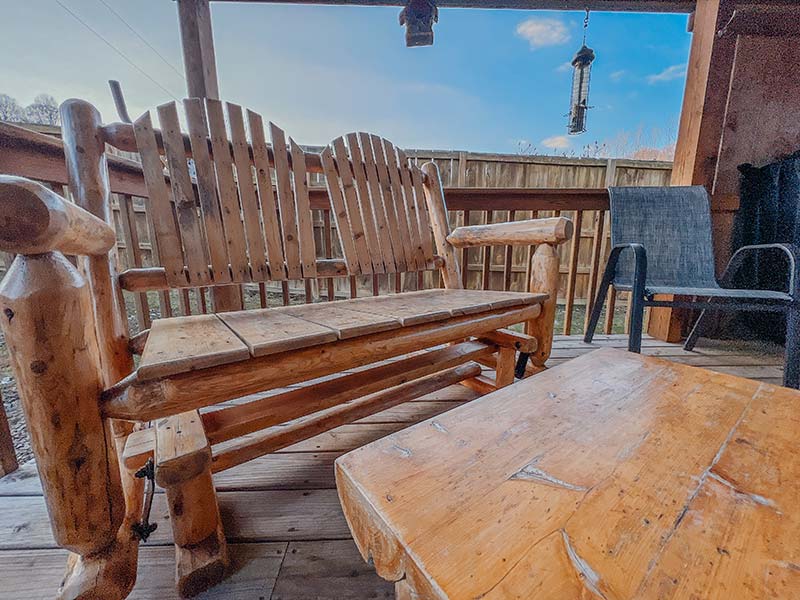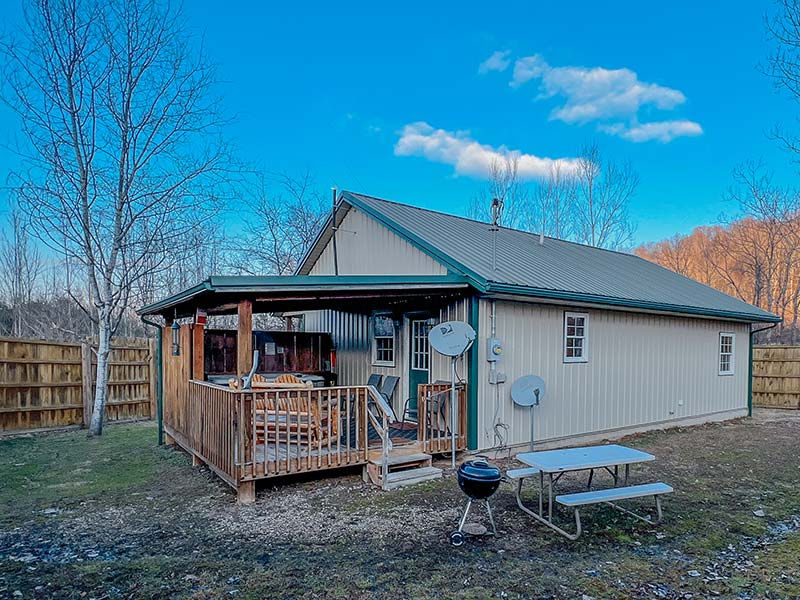 Reviews of Cuddle Bug Cottage
Selection of comments left by our guests at Cuddle Bug Cottage
"After doing hours of research to find the perfect place, we found it! This cabin is the definition of peace and tranquility. Ash Ridge Cabins have the details to offer you the perfect getaway. Can't wait to return!" – James & Susan – Dayton, OH –
"The perfect setting for our anniversary – our 3rd stay at Ash Ridge Cabins. Once again, completely delightful and relaxing! This time we took advantage of the hiking trails in Hocking Hills. We will be making many return trips here. I loved sitting and reading with coffee on the back deck – but my favorite activity was bird watching. The "Birds of Ohio" field guide on the coffee table was a thoughtful touch. Thanks again!" – Patti & Lucas – South Point, OH
"An amazing entrance – music, dim lights, was a perfect beginning to our week together. Cabin has everything we could have wanted. They thought of everything down to the littlest detail. Warm, comfortable and very private. I wish every place we stayed in was as nice as this. Thank you!" – John & Sandy
"Thank you so much for creating such a perfect getaway. This has been one of our favorite experiences together by far. We've truly loved every single minute we've been here. This place is perfect!" – Madison & CJ – Akron, OH
"We fell in love with this place… we didn't want to leave. We came here for our 35th anniversary and so enjoyed ourselves. We will make plans to come back again. We had a nice dinner with a nice, too-pretty-to-cut cake that I came to find out – they make it here for us. So lovely! Love the Cuddle Bug!" – Chuck & Debbie – Groveport, OH – 2018
"The Cuddle Bug exceeded our expectations. Loving the peaceful feel from the smell of warm lit candles to the rope lights around the kitchen. Everything was clean and homey. We are very pleased! You are the best!" – Doug & Joyce – Connellsville, PA
"Loved walking in to the soft music and fireplace aglow. We came to celebrate our 40th anniversary. It was nice to come to a cabin away from everything and just enjoy each other's company. The cinnamon rolls were delicious and a nice treat. Thank you for such and clean and lovely cabin." – Mary & Charlie – Lawrenceburg, IN – 2018
"Had a wonderful time! Beautiful and relaxing cabin. We hiked two full days and enjoyed coming back to cook dinner and sit on the front porch. Had fun watching the robin feed her babies. The cinnamon rolls were outstanding! Thanks again!" – Stacey, Jackie & Lacey
"A lovely stay! Everything is so beautiful here. We enjoyed watching the fireflies, cooking out on the grill and definitely the peace & quiet! The hot tub was perfect after a long day of hiking and there were plenty of towels. Thank you so much for providing such a cozy cabin for a very reasonable price. We will definitely recommend you to others!" – Aimee, Sarah & Lynn – Pittsburgh, PA
"We had a great time. The cabin was very clean and well stocked. The location is excellent – very close to all the main attractions. It was awesome to "come home" to the hot tub after walking over 17,000 steps! We plan on a return trip someday." – Don & Dennis – Burlington, KY
"We had a wonderful time staying at the Cuddle Bug. We are already talking about coming back again. The cottage was clean, smelled wonderful and had everything we needed. We liked sitting on the front porch and just enjoying the peace and quiet." – Allen & Ali
"Our stay was the perfect getaway. It was relaxing and fun. We had everything we could possibly need. The warm welcome with the candles and the beautiful CD playing upon arrival, the complimentary coffee was so good, the provided cookware all the way down to silverware, the bath linens all made our stay easy. The wood furniture (especially the big comfy rocker) and the homemade goods were a very nice touch. The game room was a brilliant idea! The hot tub, relaxing in the AC – it was the perfect place to enjoy some Hocking Hills country living and it really warmed our hearts. Our stay was truly amazing!" – Clint & Jillian – Germantown, OH – 2018
"As soon as we walked in we could feel the romance and ambience of the Cuddle Bug. So clean and all the little comforts of home. Spent all day on all the beautiful trails – gorgeous! Want to come back next Fall when the leaves change!" – Clarence & Cheryl – N. Royalton, OH – 2018
"First time here for us and we loved it. So homey and comfortable with all the thoughtful touches. Loved the peace and quiet of nature and the privacy. We will be back." – Jon & Rita – Portage, MI – 2018
"Enjoyed our stay at the Cuddle Bug. Loved the homey feel. The candle and soft music playing upon arrival was very nice along with all the other little extras. We ordered a pizza from the Three Sisters' Bakery – I would definitely recommend. It was very good!" – Myra & John – Garfield Heights, OH
"We enjoyed our stay very much. Couldn't ask for a better location. The quiet and secluded cabin is beautiful. The hot tub was great for the nights after hiking. Thanks for the great time and the cinnamon rolls!" – Carol & Keith – Lambertville, MI
Read more reviews of Ash Ridge Cabins, including those left on Google and Trip Advisor
Special Reservation Rules for the Cuddle Bug Cottage Only:
2-night minimum stay required at all times
Stay any Friday/Saturday and get Sunday for 25% off (not applicable on holiday weekends & not combinable with other discounts)
Check-in starts at 5 p.m., check-out by 1 p.m.
Reserve Cuddle Bug Cottage